Placing your first order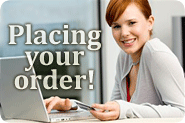 Placing an order with Abet Disc can be done quickly through the website by simply following these easy steps:
New Clients "$20 off "
Orders over $200 qualify for $20 discount. Simply subscribe to receive exclusive email offers and promotions from Abet Disc and its subsidiaries, place your order and we will refund $20!
Order Placing
Simply click on the product / service you require;
A complete description and cost for the service will appear, select from the available options, agree to the Terms & Conditions and then click submit;
Credit card payment will be proceed through PayPal, you don't need to have a PayPal account.
Reorders, no need to resend the Master or Artwork, simply place a reorder and enter the order ID.
CD/DVD Duplication & Replication orders
Once you have paid for the order, you will receive, by email, an order confirmation, along with your receipt, ID order number
Orders over $200, a prepaid FedEx ground mailing label (paid by Abet Disc) will be emailed to you;
Print the label;
Insert a copy of your Master-Disc into an envelope and attach the label (master disc will not be returned);
Drop the package at any FedEx location nationwide USA
Art work you can either include it directly in the envelope or upload.
Printing orders
Once you have paid for the order, you will receive, by email, an order confirmation, along with your receipt and order ID number.
Art work upload.
Artwork Proofs
When you upload your artwork files we begin processing the project by preparing a PDF proof for your review. This usually happens within 24 hours. You must approve the proof by replying to our email as soon as possible.
Production Time
If you approve your artwork proofs prior to 10:30 am our time (CD/DVD order production time starts after receiving master and artwork approval) then that day becomes day zero in the quoted days. For example if you are ordering a project with a quoted production time of 5 days and you approve the proof on Monday morning at 10:00 am central time then Monday becomes day zero. Tuesday is day one and so on. Your project will be completed on the fifth business day after day zero, in this case that would be the following Monday, 5 business days after day zero. Order will be processed and ready to be shipped from our plant on the following day.
NOTE: All production times quoted are estimates. We try our best to make these times but don't always get it done. Please allow for this when placing your order. Actual shipping time begins after production is finished. Please allow plenty of time for the production of your project. We cannot be responsible for missed deadlines.
| | |
| --- | --- |
| | "I have been a performer since 1965–with records in the Top Ten and a Grammy award, too. I've also composed music for many movies as well as performing on national TV shows such as "Tonight". Abet Disc has facilitated me in many ways: manufacturing 2 CDs of my music, as well as making excellent DVDs of my movie and TV work. I thoroughly recommend this company. I have had nothing but excellent quality work as well as extreme politeness and thoughtfulness." Ian Whitcomb > more |
In a few days, depending on the timeframe selected, you will receive a professionally finished product that will be worthy of your talent. It really is that simple.
There is no doubt that musicians and filmmakers have been lucky enough to be blessed with a special gift that artistic ability that turns them into masters at their craft, whether it is by creating that song for the next hit CD or weaving a wonderful story for that next successful movie on DVD.
However, in order to produce a truly overall professional product of the highest quality, the technical side must be viewed as a final and critical step in the overall making of that CD or DVD, in essence, the finishing touch that will make it perfect.
Therefore, deciding which company you will entrust with your cherished CD or DVD for duplication, replication, audio mastering, DVD authoring or any other type of optical disc media manufacturing, is one of the most important decisions you can make. So, it makes sense to go with a company that has worked extensively with both the film and music industry, assisting these major record label companies and movie studios by producing, on their behalf, the highest quality DVD and CD products on the market. AbetDisc.com is the answer.